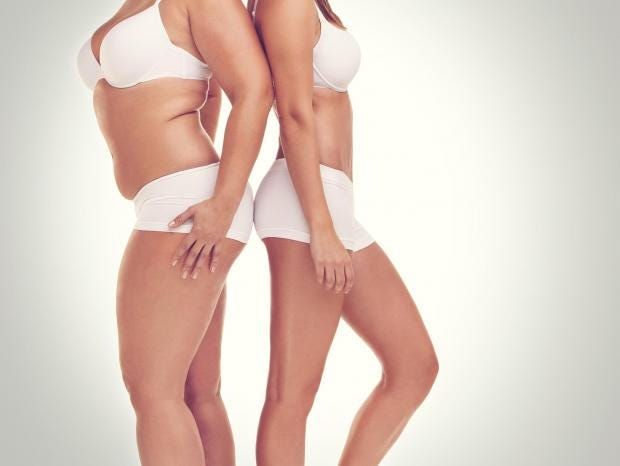 A sex guide specifically for 'curvier' women has been released.
The book Curvy Girl Sex is the brainchild of sex educator and body positivity activist Elle Chase. In the book, Chase advises readers on a number of positions, masturbation techniques and sex toys all with the aim of improving the sex lives of 'curvier' women.
"The book is aimed at anyone who might consider themselves curvy in any way — prominent posteriors, bigger breasts, rounder bellies, or all of the above and more. But it's also an incredibly useful guide for how to enjoy more comfortable, more satisfying sex for all people," Chase told The Independent. "The positions in this book can be used by slender women, muscular women, anyone with a mobility challenge — even pregnant women can learn from it. The book comes with a 'key' of icons that let the reader know which positions are effective for common areas of concern. For example, some positions have icons that make it clear that they're great for people with an achey back or a pregnancy, while other icons let readers know when a position is pleasurable for someone with weaker knees or hip pain."
Chase says that "as a curvy gal myself", she has explored sex positions she has found work better for her body shape and said, since establishing these, she felt the need to share it with a wider audience through her book.
But is giving sex advice for larger women, in a society where a slim, ideal body type is very much the pressure, ostracising them further?
Inspiring body positivity quotes
Chase says no. "I am catering to and welcoming a segment of society that has been excluded from these conversations in the past. It's the antithesis of ostracisation and when you flip through the book, it becomes clear right away that this book is inclusive in ways beyond body size — the imagery, language and position recommendations keep other important (and often forgotten) factors in mind, including gender identity, sexual orientation, mobility and more."
Chase justifies the book having such a target audience by arguing that the majority of sex advice, conversation, research and portrayals are geared towards a certain body type.
"Healthy, happy sex lives are not one-size-fits-all and my work is dedicated to the undeserved communities who are often left out of these kinds of conversations," she says.
She also thinks curvier women are stigmatised by society when it comes to narratives around sex arguing that a common school of thought is equating a happy sex life with a particular type of beauty and body type.
"People — all people — are inherently sexy; we are born as sexual beings and it's something inside us that can not be taken away," she says. "To say anyone has to look, act or speak a certain way in order to be considered worthy of a healthy, satisfying sex life is maddening and inherently discriminatory."
Chase says the premise that plus-size isn't sexy is "patently untrue" and that what our individual tastes are when it comes to sex varies according to type.
In recent years, the body positivity movement has gained stead in fashion and culture, so Chase says a book about sex for plus-size women who now have a greater choice of fashion lines and models to enjoy, was a "natural conclusion to draw".
Her desire to write the book stemmed from her experiences teaching a class called 'Big Beautiful Sex' which is aimed at coaching plus-size women to explore their sexuality. She says she was regularly asked about more comfortable sex positions and the best way to maximise pleasure for their body types.
"As larger women, we sometimes have to navigate around larger parts of our body," Chase explains. "Don't be afraid to move extra skin to get comfortable or even use for support during sex. Your lover wants to be there and wants you to be comfortable so you can receive pleasure. Make any adjustments you need; use accessories to help you sustain positions easier and longer. Don't let fear get in the way of having a great time."
A sex therapist's guide to sex for the elderly
While no one has yet designed a range of sex toys specifically for curvy women, Chase advises there are certain toys and accessories which lend themselves more to that body type – which she gives advice on in detail in the book.
No matter what body type you have, a common message we hear is that self-confidence is key to feeling sexually confident. Chase says that self-love is a slow process and, when it comes to sex, self-acceptance is the most important thing.
"You don't have to love your body in order to have great sex, you just have to accept it," Chase says. "Sometimes, someone telling you to love your body might feel like too big a leap. Accepting yourself for who you are and what you look like right now helps eliminate some of the negative talk from the scenario and makes it a little easier to fall into the category of body neutrality. Whatever you can do to get the negative thoughts out of your head and replace them with something else — ideally something positive — then you've made a huge step toward enjoying great sex."